Wasatch Resource Recovery is launching a new project as a community resource to reduce food waste! The residential public drop-off is now OPEN, check out all the details below and reach out if you have any questions. 
Residential Public Drop-Off Details
Who: You, your family, friends and neighbors!
What: An alternative destination for household food waste
When: Monday – Friday 7:00am to 7:00pm, Saturday & Sunday 7:00am to 3:30pm 
Where: Just inside the gates of WRR – 1370 W Center St, North Salt Lake, UT 84054
Why: Divert waste from the landfill and help produce renewable biogas!
Public Drop-Off and Wasatch Resource Recovery FAQs
Is there a charge to use the public drop-off?
There is no charge to use the public drop-off location. If you have more than 15 gallons of material to dispose of, please contact us at (801) 661-0095. 
Can the waste be frozen or expired?
Yes! 
How often can I come drop off my food waste?
As often as you have it. Try to combine trips to reduce vehicle emissions!
How do I separate food waste at home?
We suggest putting a small/medium size bucket (with a lid to reduce smells) or a traditional compost container next to your kitchen trash at home. This way, each time you go to throw something in your trash, you'll think twice! 
What kind of food waste can I put in the public drop-off?
Fruit and vegetables

Grains

Pizza crusts

Coffee grounds

Cheese 
Meat/fish/poultry – not just bones! 

Pet food 

Leftovers 

Eggs 

Butter/oils
What kind of waste is prohibited?
Compostable silverware/containers

Glass 

Toxic/hazardous materials
I am worried about smells/messes – is there a way to minimize this?
At WRR our preference would be to keep as much contamination out of the bins as possible. However, we have state-of-the-art equipment that can pull out contaminants, such as plastic bags. If you would like to place your food waste in a clear plastic or bio-bag, this can eliminate mess and odors. 
Why should I divert waste from the landfill? 
In 2018, the EPA released a report about food waste in the U.S. They found that the 'residential sector' (single/multi-family homes) wasted 25 million tons of food! Sixty six percent (66%) of that food waste was sent to the landfill, only 3% was composted and the rest was incinerated or went to wastewater treatment facilities. Food, and other waste we think of as 'biodegradable', does not break down in the landfill as quickly as you would expect – landfills lack oxygen which slows down the decomposition process. As waste slowly degrades it releases methane (a harmful greenhouse gas) into the atmosphere. 
In the same study done in 2018, the EPA states that around 24% of landfill space is taken up by food waste. Landfills have a large footprint, cost time and resources to maintain, and can cause permanent damage to the surrounding environment. Anything we can do to save space in the landfill is a huge help! 
Wasatch Resource Recovery offers a sustainable destination for food waste. Our site uses the technology of anaerobic digestion to break down food waste and convert it to renewable natural gas and biosolids (nutrient rich fertilizer). Check out our website for a more in-depth look at the process.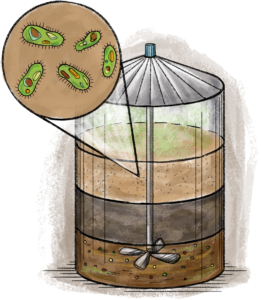 What is anaerobic digestion?
A digester, like its name suggests, functions similarly to many animals' digestive system. It breaks down food waste and turns it into biogas and biosolids, which are eventually refined to natural gas and fertilizer. The natural biological processes use microorganisms to break down biodegradable material in an enclosed tank without oxygen.
Sources:




https://www.epa.gov/recycle/reducing-wasted-food-home




https://www.epa.gov/facts-and-figures-about-materials-waste-and-recycling/food-material-specific-data




https://www.epa.gov/sites/production/files/2020-11/documents/2018_wasted_food_report.pdf




https://www.epa.gov/facts-and-figures-about-materials-waste-and-recycling/national-overview-facts-and-figures-materials#Landfilling




https://www.rcbc.ca/resources/faqs/composting5#:~:text=In%20the%20landfill%2C%20buried%20under,of%20landfill%20material%20is%20organics.&text=Not%20only%20does%20this%20process,out%20of%20our%20organic%20waste
https://wasatchresourcerecovery.com/wp-content/uploads/2020/08/organic-array-1.png
620
900
Lydia Keenan
/wp-content/uploads/2020/08/wasatch-resource-recovery.png
Lydia Keenan
2021-02-18 09:22:10
2021-11-29 10:44:05
Announcing WRR's Residential Public Food Waste Drop-Off!