Q: What is anaerobic digestion?
A: A digester, like its name suggests, functions similarly to many animals' digestive system. It breaks down food waste and turns it into biogas and biosolids, which are eventually refined to natural gas and fertilizer. The natural biological processes use microorganisms to break down biodegradable material in an enclosed tank without oxygen.
Q: What can you put into an anaerobic digester?
A: Just about any organic waste such as food waste, fats, oils and grease (FOG), organic liquid waste and livestock manure are common feedstock. Materials with high levels of fat, sugar and starch produce the most gas. Like any digestive system, a digester cannot process metals, plastics, toxic materials or too much woody waste like tree branches.
Q: Why should we divert material to an anaerobic digester?
A: Not only is this project environmentally friendly, it also makes economic sense. Businesses which generate large quantities of food waste each year can pay lower tipping fees (on average 66% lower than typical landfill fees) which can lead to considerable cost savings. In addition to saving money, diverting material to an anaerobic digester will create multiple local jobs, keep harmful GHGs out of our air, and extend the life of our public landfills.
Q: Is diverting material to an anaerobic digester a responsible method of disposal?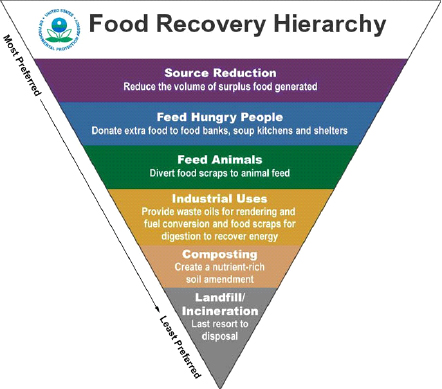 A: The EPA has a recommended hierarchy for diverting food waste. Reducing waste and donating food to feed hungry people and livestock are considered the best uses for food waste, diverting food waste to a digester is preferable to large-scale composting, landfilling and incineration. Digestion produces biogas — a clean, renewable energy source — as well as producing a nutrient rich fertilizer.
The project utilizes an otherwise wasted resource to produce a renewable source of energy and fertilizer. This project is eligible for carbon offsets or credits, renewable energy credits (RECS), and renewable identification numbers (RINS).
Q: Why is it important to divert food waste from the landfill?
A: When biodegradable material breaks down in a landfill it produces methane gas. Some Utah landfills do capture methane and convert it to electrical power. However, landfill capture is not as efficient as anaerobic digestion and only collects around 50% of what a digester would. Additionally, landfill generators powered by the methane are only about 35% power efficient since they don't utilize the heat generated as a digester's Combined Heat and Power (CHP) system would. With this project, 100% of the biogas produced is captured and turned into pipeline-grade natural gas and sold into the renewable energy market.
Furthermore, organic waste makes up 30% of landfill waste. Keeping this waste out of the landfill extends its life and helps keep tipping fees and garbage rates low for businesses and residents.
Q: How does food waste impact our air quality?
A: When food waste ends up in a landfill it emits greenhouse gases such carbon dioxide, ammonia and methane. Methane alone is over 20 times more damaging to the atmosphere than CO2. Greenhouse gas emissions contribute to poor air quality and impact the health of Utahns along the Wasatch Front. The anticipated amount of organic waste diverted to the anaerobic digester each year will equate taking over 100 thousand cars off of the highway.
Q: What kinds of businesses can divert their food waste to a digester?
A: Essentially any business that produces organic waste can participate. Restaurants, grocery stores, hotels, caterers, conference venues, breweries, food processors and manufacturers, company cafeterias, bottling facilities, hospitals, universities, residential care facilities, etc., can all benefit from the program.
Q: How can my business divert its food waste?
A: Depending on the volume and type of food waste produced, toters, dumpsters or self-contained compactors can be used for collection. Liquid wastes would be stored onsite and hauled regularly via tankers. Businesses can simply separate their food waste from recyclable and landfill waste by placing smaller collection containers in areas where food waste is produced. These containers can be emptied into the larger container– just like your garbage is – and will then be hauled to the digester.
Q: How clean does the food waste need to be? What happens if a paper napkin or plastic fork slips in?
A: Fortunately, Wasatch Resource Recovery has state of the art equipment that can remove most contaminants – including plastic bags – so there is no real change in handling your food waste other than separation. Businesses can even place plastic containers of out-of-date yogurt, milk and other packaged food directly into their collection containers. Food waste can be collected in plastic bags to prevent odors and pests from becoming a problem. These bags and plastic material are screened out in the de-packaging process. If contaminants exceed 8% of the total load, a higher tipping fee is assessed.
Q: Won't it be smelly and attract pests if it isn't emptied every day?
A: Because businesses are allowed to collect food waste in plastic bags, odors and pests shouldn't be a problem. Your hauler will help you determine the most optimal frequency for service based on your volume and space needs.
Q: Where do I sign up? I am ready to divert my food waste to the digester!
A: Please reach out to us here and we will respond quickly to coordinate all the details!
Q: What or who is Wasatch Resource Recovery?
A: Wasatch Resource Recovery (WRR) is the name of the facility that is processing organic waste and turning it into natural gas. WRR is a public-private partnership between ALPRO Energy & Water (ALPRO) and the South Davis Sewer District (SDSD). The facility uses state-of-the-art equipment, much of which is supplied by GE-Monsal, a strategic partner in the project. The WRR is sited right next to the existing South Plant wastewater treatment facility and uses much of the existing plants' facilities to support the project. In the first phase of construction, two 2.5-million gallon tanks were built to be used at the WRR facility for digestion. In this public-private partnership, the SDSD will operate the WRR facility and ALPRO will manage the feed stock and the energy and fertilizer offtakes.
Q: Will you accept my compostable disposable containers?
A: Unfortunately, compostable products are meant specifically for industrial compost facilities, and not for anaerobic digesters. Because the two processes differ in some key ways, these compostables will likely not break down and will most frequently be screened out before they ever hit the digester. Wasatch Resource Recovery does allow for 7% contamination by weight, as all the food waste goes through a depackaging machine. These compostables would be considered contamination, but are allowed as long as they don't exceed 7% of what is sent.